uTorrent
3.4.2
Stay tuned
Bit-torrents have proliferated in the recent years. They are the black sheep of the Internet. Something that the film and music industry would love to get rid of. Everybody's heard of The Pirate Bay or Demonoid. The reason that this model survives even today is because there is no big software warehouse that stores all of that juicy media. Files are located on multiple personal computers and are shared from user to user in any place of the world and without an account. That doesn't mean you can safely download whatever is on HBO, however. Or if you do, make sure you can delete your tracks. For example you can keep a couple of electromagnets nearby in case the police comes busting down the door to confiscate your rig.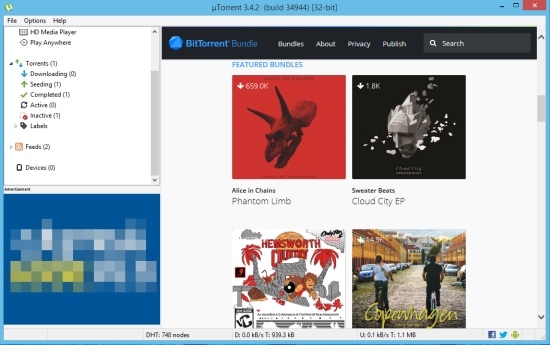 Portable software
uTorrent is tiny. Compared to other bit-torrent clients this one only weighs under 2 megabytes and is comprised of a single executable file. No installation needed. It also needs minimum resources in order to run, allowing you to keep it active while running other more demanding applications. But what other qualities does it possess do you ask? Well, besides the standard view and manipulation of torrent files, uTorrent has two other features. (and three more if you upgrade to uTorrent Plus):
BitTorrent Bundles highlights different artists and allows the download of media bundles. Album samples, movie stills, trailers and other materials are showcased and can be downloaded by a simple click of a button.
uTorrent can also gather RSS feeds. It can list the headlines where from you can open them in your default browser.
Features:
Torrent file management
Bundles
RSS Feeds
The Bundles may be of interest but the RSS feeds are probably better suited of being followed by the web browser itself.
Pros:
Small size
Good performance
Low resource requirements
Cons:
Conclusion
uTorrent is probably the best choice if you're looking to maintain traffic on your torrent files, as it does not encumber other computer activities. Go for it!
---
Add a review
Tell us your experience with
uTorrent
3.4.2
RELATED PROGRAMS
Our Recommendations
---
---
---
---